ProCommunity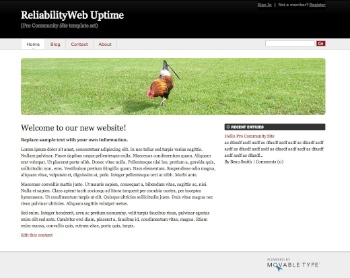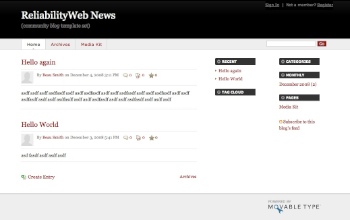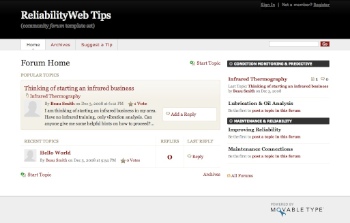 Marry the Community Blog an Community Forum template sets (from the Community Pack as of MT 4.23) with the Professional template set and you get three template sets in one plugin:
Pro Community Blog - based on the Community Blog template set.
Pro Community Forum - based on the Community Forum template set.
Pro Community Site - based on the Professional template set (which uses page content for main index page content) but has rating, userpics, etc from the Community Blog template set.
All skinned with the Professional Black style. The other three styles can be easily ported with a little css knowledge.
Warning
In the creation of this template set it was assumed that most users wont be using both the default community template set and this version in the same install, rather it is assumed that if you're using this one you won't be using the other one. Installing this plugin is not destructive, but this plugin does override two global template modules defined in the Community Pack that comes with paid versions of Movable Type.
Installing this template set will override the default Header and Navigation global template modules contained in the Community Pack with the ones in this template set. Should you need to have more than one global header.
Thus you should not use the Community Pack template sets ("Community Forum" or "Community Blog") if you are using the ProCommunity template sets ("Pro Community Forum" or "Pro Community Blog"). The only reason to use the Community Pack tempalte sets is if this plugin is not updated with features added to those template sets. (But if I have it my way, this template set will evolve, Mmmm-Waaa-Ha-Haaaaa!)
Requirements
MT 4.2 or higher
Community Pack for some global templates, friending/following, rating, profiles, userpics, and other community features.
Commercial Pack for creation of pages necessary for template set (home, about, contact).
Download
Code
Installation
place plugin folder into plugins folder $MT_HOME/plugin/.
place plugin static folder in $MT_HOME/mt-static/plugins/.
login to MT and navigate to the Global Templates listing screen and choose the action "Refresh Global Templates". (You may need to manually refresh the "Header" and "Navigation" gloabal template modules via the "More actions…" menu on the Edit Template screen for each template.)

create a new blog using the desired Pro Community template set:

Pro Community Site
Pro Community Blog
Pro Community Forum

Or you can refresh the templates on an existing blog to use one of the Pro Community template sets. (Navigate to the Design > Templates and choose the action "Refresh Blog Templates").

Note If using the Pro Community Site template set, you first need to install (or refresh to) the "Professional Website" template set before step 4; this will install the pages required by the template set.
Revision History
v1 - 2008 Dec 8

Initial Release
Developers